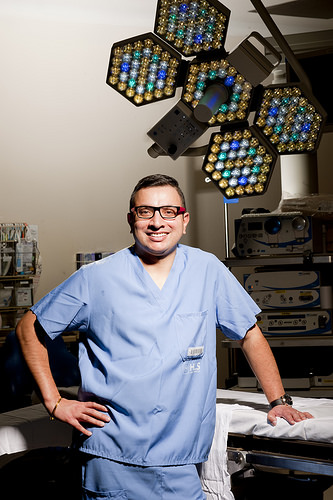 Dr. Kundhal is a General Surgeon who specializes in minimally invasive surgeries ("key hole surgery") and management of a variety of oncologic and benign surgical problems. He has been a member of the Department of Surgery at William Osler Health System since 2012, and is the Site Chief of General Surgery at Brampton Civic Hospital. He has previously worked at Toronto East General Hospital as a surgeon.
He completed his undergraduate studies in Economics at the University of Toronto graduating with honours. Following this, he attended medical school at the University of Toronto. He finished a five year surgical residency at the prestigious Department of Surgery at University of Toronto. He trained at the University Health Network, Mount Sinai Hospital, St. Michael's Hospital and Sunnybrook. In addition, he did a Clinical Fellowship at the Toronto East General Hospital with a focus on acute care surgery, colon and rectal surgical procedures and advanced minimally invasive procedures. Dr. Kundhal also has a clinical interest in surgical and non-surgical weight loss, and has completed numerous post-graduate courses in this area. Most recently, Dr. Kundhal completed an advanced graduate degree of Masters of Business Administration at the Ivey School of Business. He hopes to use this experience to improve delivery of healthcare in our healthcare system.
Dr. Kundhal regularly attends conferences and courses to keep up to date with the latest advances in General surgery in order to provide his patients with the most up to date and evidence based care.
Dr.Kundhal is a member of the College of Physician and Surgeons of Ontario, Fellow of the Royal Colleges of Physicians and Surgeons of Canada, Ontario Association of General Surgeons, and Obesity Medicine Association. He is also a SCOPE certified specialist in Obesity Medicine.